History of El Dorado Fire and Rescue
The El Dorado Fire and Rescue Service came into existence in about 1979 shortly after its founder, John Liebson, moved to Eldorado from Colorado. It had previously existed as the Eldorado Fire Brigade. The story of that event has been written by John and he has generously allowed us to place it HERE on this web site.
In addition, photographs from days-gone-by will be added to this page.
The engine below was the first fire truck owned by the Brigade. It was manufactured in 1947 and was the only piece of apparatus owned by the Brigade in 1979. These pictures date from about 1979/80. Double-click on each image to enlarge.
Here are more pictures from  days gone by: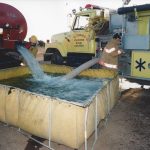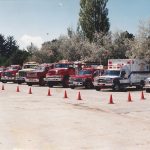 Check back later for more images!