Wildland Surveys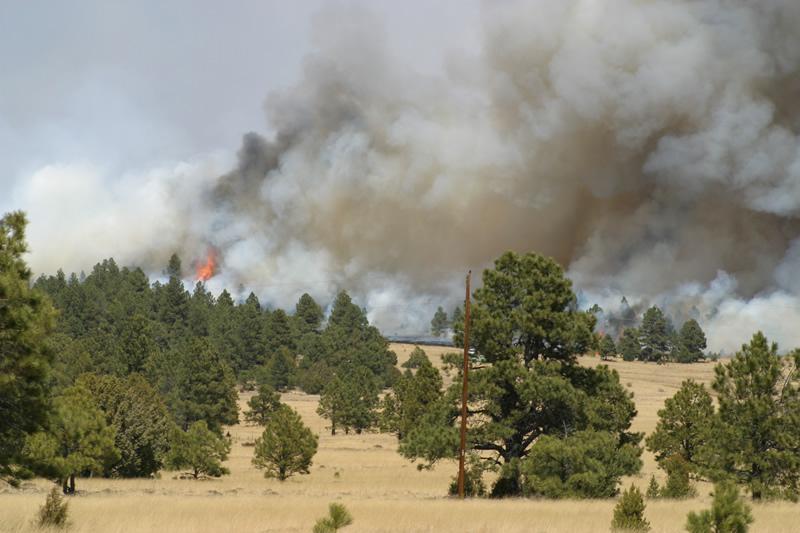 The potential for wildland fire exists throughout much of the year in the El Dorado area. Portions of the El Dorado Fire District are officially rated at high or moderate risk for wildland/urban interface fire hazards by the County of Santa Fe. The wildland/urban interface is the area where structures and other human development intermingle with undeveloped wildland. You can also think of the wildland/urban interface as an area where houses or commercial development and fairly dense vegetation are both present.
There are two main causes of wildland fire; lightning and human factors such as fireworks, open burning smoking, etc. Generally speaking, open burning is not permitted in most of the El Dorado Fire District. Some exceptions may be granted for larger properties (greater than 5 acres) provided a permit is obtained from Santa Fe County and provided there is no state or local ban in effect. Small campfires (defined as 3 feet in diameter by 3 feet in flame height) as well as barbeques may be permitted, again, provided there is no state or local ban in effect. Burning of trash, construction debris, paper products and the like is never permitted. For additional information on burning restrictions or permits, contact the Santa Fe County Fire Department at 505/992-3070.
The most important things you can do to reduce your risk for wildland fire are to thin vegetation near your home and create a defensible space of at least 30 feet between your residence and fuel sources such as grasses, shrubs, trees and other vegetation. Defensible space is defined as "an area either natural or manmade where material capable of causing a fire to spread has been treated, cleared, reduced, or changed to act as a barrier between an advancing wildland fire and resources or lives at risk". In other words, defensible space is an area of 30 feet or more around a structure that is cleared of flammable brush or vegetation and other fuels.
The El Dorado Fire and Rescue Service (EFRS) will conduct a wildland/urban interface fire hazard survey of any property in the
El Dorado fire district at the request of the homeowner. EFRS uses an assessment tool developed by the National Fire Protection Association that ranks properties with regard to wildland/urban interface fire hazards in 4 categories; low, moderate, high and extreme. There is no charge for this survey.
Most surveys are done on Saturday mornings between 8 AM and noon by members of the El Dorado Fire and Rescue Service, sometimes assisted by wildland firefighters from the New Mexico State Forestry Division. It may take several weeks before a property can be visited since only a limited number of surveys may be completed in any week. Surveys are subject to the availability of personnel which may be impacted by training, emergency assignment or other factors. If you are interested in having your home surveyed for wildland fire hazards, please follow this link (see page below) or contact the fire department at eldoradofire@comcast.net or 466-1204.
For additional information on wildland fires and reducing wildland/urban interface hazards around your home, El Dorado Fire and Rescue Service recommends the following web sites:
Ways to Reduce Wildland Fire Risk http://www.firewise.org/
New Mexico State Forestry http://www.emnrd.state.nm.us/FD/index.htm
New Mexico Wildland Fire Information http://www.nmfireinfo.com/
National Wildland Fire Plan http://www.forestsandrangelands.gov/
U.S. Forest Service http://www.fs.fed.us/fire/