Donate to El Dorado Fire and Rescue
Welcome to the EFRS Website Home Page
Please  Bookmark this page in your Internet Browser so you can visit us often.
Annual BBQ

Eldorado Fire and Rescue will hold its annual BBQ event on September 15, 2019. Highlights will include great music, great food, the appearance of El Dorado's 11 pieces of apparatus, plus other exciting activities. As usual, there will be plenty for the kids, including an obstacle course, bounce house and a visit from Smoky. Here are a few pictures of recent events.
Emergency Calls in 2018

EFRS responded to over 500 calls in 2018. Emergency calls include structure fires, car fires, motor vehicle accidents, brush fires, medical emergencies, and a small number of what might be called unusual calls. Medical calls are the largest single type of emergency call that we receive.  Have a safe year and be careful out there! We would rather not have to come to see you.
Santa Fe County Fire Danger
We are in another dry year and even with the monsoon rains the threat of wildland fire continues. Be sure you do your part to help prevent wildland fires. Remember that even though we have had some snow cover and rain, as dead materials accumulate on the ground they can catch fire due to reckless activities such as throwing out lit cigarettes, parking your car over dry high grasses, or any activity  that puts dry burnable material in contact with an ignition source. Be careful out there!
EARLIER POSTS –––
High-Angle Technical Rescue in Eldorado
El Dorado Fire members plus technical rescue crews from Santa Fe County successfully carried a local resident to safety after she fell in a deep canyon southeast of Eldorado and broke her ankle. The patient was strapped to a Stokes litter and then carried/pulled up a 45 degree angle path from the canyon bottom to the surface after part of the path was cleared with chain saws.
EFRS helps out with Dip Site Training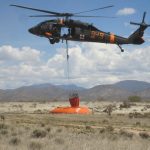 Members of El Dorado Fire and Rescue assisted the National Guard with  Dip Site training by deploying a 4000 gallon portable water tank known affectionately  as the "pumpkin". Once full, the Guard practiced filling their helicopter water bucket from the tank. This technique is used extensively in fighting wild land fires.    
You can see more pictures and videos of this process by looking at these three links:
To see more pictures, click HERE.
To see a video, click HERE .
El Dorado Firefighters Battle House Fire
Firefighters from El Dorado and neaby fire districts battled a massive house fire in Eldorado earlier this month. The house was fully involved on arrival and the flames were put down in about 2 hours. No one was injured in the blaze. The first two images below are courtesy of Max Underwood.
The State of the Volunteer Fire Department in the US
Please read this article and then come help us reverse the trend!
Tristate Careflight Helicopter Crash
The members of the El Dorado Fire and Rescue Service wish to convey their deepest sympathies to the families, friends, and associates of the three crew members who lost their lives in the line of duty when their "bird" crashed near Tucumcari.   David, Rebecca, and James, you will be missed.
New Wildland Engine is Now In Service
El Dorado Fire and Rescue continues to upgrade its fleet. Our new Wildland engine is now in service.  This engine is known as a Type 6 engine. It is built on a Ford F550 4 x 4 chassis, carries 400 gallons of water plus foam, and has a 300 GPM pump with two hose reels.
New Water Tender (Tanker) is Here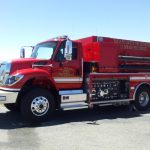 El Dorado Fire and Rescue is now in possession of its new water tender. This tender  carries 2000 gallons of water and has a pump capable of delivering 1000 gallons per minute. Water tenders like this are used to provide water in areas that do not have  hydrants. In addition, they can also be used in wildland firefighting.
El Dorado Fire and Rescue Service Receives an ISO 3 Rating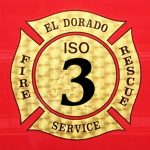 EFRS underwent a review of its operations by the Insurance Service Organization in 2016. ISO evaluates communities throughout the United States using a standardized fire suppression rating schedule. This evaluation is based on processing emergency calls, water supply, and of course equipment, staffing, facilities, and training.
We are happy to announce that our ISO rating (on a scale of 1 (best) to 10) has improved from a 4 to a 3 rating. This makes EFRS the highest-rated volunteer fire department in the State of New Mexico. You can read more about this in a future issue of the Eldorado Vistas.
You should contact your homeowners insurance agent to see if this new rating might affect your annual insurance premium.
New Med Unit Has Arrived
In a continuing effort to keep its fleet of emergency vehicles up to date, The El Dorado Fire and Rescue Service is now in possession of its new ambulance to replace the old Med 2. This first-out ambulance, know as Medic 1, is located at Station 1 and has already seen action on a number of medical and motor vehicle accident calls in the past month. Click each  image to enlarge it.
EFRS Purchases New LifePak 15
Becaus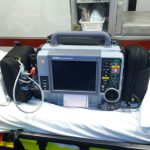 e of your generous donations to the El Dorado Fire and Rescue Service, we have been able to purchase a new state-of-the-art LifePak 15 monitor. This device is used on medical scenes to assess a patient's vital signs and to provide defibrillator functionality if needed. It also has the ability to transmit vital signs to the hospital in order to get real-time feedback from ER doctors. This device is now located on EFRS's  first-out medical unit. Click the image to enlarge it.
New Fire Engine in Service in Eldorado
Eldorado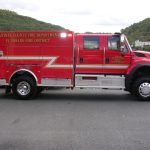 's newest fire engine is now in service. Known as Engine 3, it is now fully ready to answer structure fire calls. With four-wheel drive and a second on-board pump, it is also capable of fighting off-road wildland fires.
Click HERE to see more pictures.
Engine 731 goes to the Whitewater-Baldy Fire in 2012
El Dorado Fire's heavy wildland engine, Engine 731, was utilized in the 2012 to fight the Whitewater-Baldy fire. Here are some images from that fire.
Motorized Gurney
Thank you Eldorado! Through your generous donations to the El Dorado Fire and Rescue Association, we were able to purchase a new motorized gurney for our Med 3 ambulance to replace the older mechanical unit. The unit will hold up to 700 pounds and, because its lift mechanism is motorized, the safety of our patients and members is significantly improved. Please click on the image on the left to enlarge it.
 Volunteer with EFRS!  
   Click HERE!
 Important Note: Wildland Fire Danger is
MODERATE   !!
But that may change. This season, be careful with your fireplace fires and ashes! 

Reminder: fireplace ashes must be disposed of properly. Check and recheck.  Do not assume they are fully out. EFRS knocked down a small grass fire a few weeks ago. This fire was cause by ashes being prematurely thrown out on a grassy area.
New Mexico has been in a drought situation for some time. Therefore,  the grounds are dry enough that fireplace ashes can and do set fires even in the winter months.
As a Reminder:
"We can't control lightning, but we can control our actions" said Gilbert Zepeda, deputy regional forester for the U.S. Forestry Service:
Here are some important FIRE DO's and DON'TS:
   1. DON'T toss cigarette butts out vehicle windows. Something this small can ignite a grass fire.
   2. DON'T  pull vehicles over onto grassy road shoulders because undercarriage heat from exhauset systems can spark fires. Catalytic converters get very hot.
   3. DON'T burn trash and weeds. Burn permits are generally required for this, but it is just not a good idea in our current dry and windy environment.
4. DON'T throw fireplace ashes out in the yard, in the garden, under trees, etc.
5. DO Follow no-burn rules in our parks.
6. DO maintain a 30 foot burn proof perimeter around your home. This involves removing dry and dead vegetation, brush, trees, etc. In general, remove any fire fuels that might lie within 30 feet of your home. This includes that stash of firewood for the fireplace.
    7. DO think twice about doing anything outside that could cause sparks or flames that could ignite nearby dry brush                     and grass. Don't be the victim of Murphy's Law (If anything can go wrong, it will)
 Here are some WEB sites for you to review:
Click HERE to see the recently enacted Santa Fe County Ordinance 2012-6 regarding a county-wide burn ban. (Lifted)
Click HERE to see what you can do to Protect Your Home from Wildfire (provided by Santa Fe County)
                   Call us at 466-1204 for a FREE Wildland Fire Risk Assessment.
---
EFRS is looking for A Few Good Men and Women
to be Members. Click Here for more information.
---
See what Your Eldorado Fire and Rescue Service
has been doing lately. 
Look at the bottom of the table of contents on the left side of this page.
Click on Fireground Activities and Other Activites.
Or, click these quick links for our most current activities:
If you have any comments or questions about the department or the website, feel free to contact us at    
           eldoradofire@comcast.net     or       466-1204.